short catch overshot
Product Description
short catch overshot

Product pictures of short catch overshot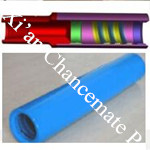 short catch overshot is designed for conditions when the fish is too short to be engaged with a standard overshot. The Grapple Control is positioned above the Basket Grapple rather than below it to allow the Basket Grapple to occupy the lowest position in the Bowl. This enables the overshot to firmly engage and retrieve a very short fish. short catch overshotassembly consists of a Top Sub, Bowl, Basket Grapple Control, and a Basket Grapple. Although the short catch overshot has no Guide, the components function in the same manner as the standard Releasing and Circulating Overshot. Operation of the Short Catch overshot is identical to standard Releasing Overshot.


Using of short catch overshotCatching the fish: attach the overshot to the bottom end of the fishing string and run it into the hole. The overshot assembly is rotated to the
right and lowered as the fish enters the expandable grapple. With the fish in the grapple, stop right-hand rotation and exert an upward pull to fully capture the fish.
Releasing the fish: a sharp downward force( bump) is applied to the overshot to break the hold of the grapple within the bowl. The overshot is then rotated to the right while it is slowly elevated to release the grapple from the fish.
When ordering, please specify: 1.top sub connection.
2.Size and type of fish to be caught
3. OD, if other than standard

Specification of short catch overshot
| | | | | |
| --- | --- | --- | --- | --- |
| Type | Fishing Range | Min Borehole Diameter | External Diameter | Allowable Tension |
| DYLT-95 | 48-50 | 4-1/2Casing | 95*534 | 90T |
| DYLT-110 | 72.4-74.5 | 5-1/2Casing | 110*555 | 50T |
| DYLT-115 | 83.6-85.7 | 5-1/2Casing | 115*550 | 62T |
| DYLT-121 | 87.9-90.6 | 140x8(5-1/2) Casing | 121*587 | 60T |
| DYLT-133 | 100.4-103.2 | 6-5/8Casing | 133*588 | 70T |
| DYLT-95 | 60.3-63.2 | 4-1/2Casing | 95*520 | |
My friend, if you have any requests of our die collar, please send your requests to my email: sales@chancematewellcontrol.com, we are 24 hours online to give you the best service
Related Products :