magnetic fisher-fishing magnet
Product Description
magnetic fisher-fishing magnet

Product pictures of magnetic fisher-fishing magnet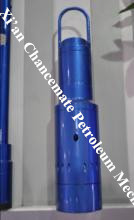 magnetic fisher also called fishing magnet , are used to retrieve all types of small objects having magnetic attraction from bore hole bottoms. Such undrillable objects as bit cones, bearings, slips, tong pins, and milling cuttings can often be retrieved only by magnetic attraction.
Features:Cut-Lipped and Mill Type Guides are available as optional accessories.
magnetic fisher-fishing magnet Specification: magnetic fisher-fishing magnetmay be run on wire lines or on pipe. Wire line operations have the advantages of speed and economy. Pipe operations have the great advantage of utilizing the generous circulation holes in the
magnet to eliminate settlings above the fish, and to loosen the fish (see chart below). The first six assemblies (with sucker rod connections) do not have circulation bores.
Bowen has Wire line Adapters available to run between the magnet and cable head or rope socket. When ordering, specify the required top connection and the magnet to be used with.
The Flush O.D. Type Guide is sold as part of the assembly.
Performance:These Fishing Magnets are particularly valuable for use prior to diamond coring. In a single trip, the Bowen Fishing Magnet will completely clean the hole of these damaging junk items, insuring good performance and safeguarding the valuable bit.
Specification of magnetic fisher-fishing magnet

Type

O.D.

(mm)

Unit Attraction Kg/cm2

Connection

Suitable Well Diameter (mm)

Type

O.D.

(mm)

Unit Attraction Kg/cm2

Connection

Suitable Well Diameter(mm)

CLQ86

86

7.8

NC26

95-110

CLQ200

200

7.8

NC50

210-235

CLQ100

100

7.8

NC31

110-135

CLQ203

203

7.8

NC50

215-240

CLQ125

125

7.8

NC38

135-165

CLQ225

225

7.8

6 5/8″REG

235-270

CLQ140

140

7.8

NC38

150-175

CLQ254

254

7.8

6 5/8″REG

265-311

CLQ146

146

7.8

NC38

160-185

CLQ265

265

7.8

6 5/8″REG

275-330

CLQ150

150

7.8

NC38

160-185

CLQ292

292

7.8

6 5/8″REG

330-442

CLQ175

175

7.8

NC50

185-210

CLQ317

317

7.8

6 5/8″REG

340-442

CLQ178

178

7.8

NC50

185-210

CLQ356

356

7.8

6 5/8″REG

445

CLQ190

190

7.8

NC50

200-225
My friend, if you have any requests of our magnetic fisher-fishing magnet, please send your requests to my email: sales@chancematewellcontrol.com, we are 24 hours online to give you the best service
Related Products :