Type H safety joint and Type AJ safety joint
Product Description
Type H safety joint and Type AJ safety joint
Product picture of Type H safety joint and Type AJ safety joint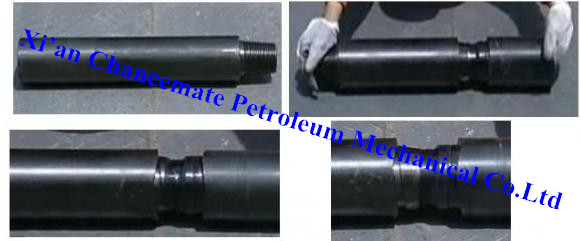 Safety joint is manufactured to provide safe and easy release and make-up whenever disengagement becomes necessary. This dependable, field-tough tool is designed to transmit torque in either direction when placed in the drill, fishing, or wash-over string.
The safety joint consists of a: Pin Section, Friction Ring, Box Section
The internal connection of the safety joint is a coarse acme thread used to facilitate easy pack-off and re-engagement. A knurled release ring between the box and pin sections maintain torsion integrity until back-off procedure is initiated. An O-ring seal contains pressure while the safety joint is made up.
Safety joints are divided into type H,type J and type AJ.
Assembly and operation of Type H safety joint and Type AJ safety joint
To assemble, install the safety joint in the drill string as indicated below. Make up the service connection to a torque of approximately 60 to 75% of the drill string connections.
l In drill strings, the safety joint should be located above the drill collars to avoid compression.
l In fishing strings, the safety joint should be located directly above the fishing tool but below the jar or bumper sub.
l In wash over strings, the safety joint should be located between the drill pipe and the wash over pipe. Wash over Safety Joints are provided with a tool joint box thread and a wash over pipe pin thread.
To disengage the safety joint while down-hole, place pipe in tension and apply left-hand torque. Hold torque while slowly lowering pipe until safety joint breaks. Continue to unscrew safety joint to the left. To re-engage the safety joint, lower pipe until pin section of safety joint lands on box section. Apply one point of weight. Rotate to the left one or two turns. Then rotate to the right until torque builds up, indicating safety joint is made up.
Type H Safety Joint is a essential safety tool for connecting the pipes in the well. The tool can be connected string on the job transfer torque to bear tension and compression load. Column in case of card operations, the safety joint can be torn off and the first will be safe from a connecting string above.
H Type Safety Joint can simplify operations, improve operating rural rate and be widely used in fishing, wash-over and testing work, etc.
Type AJ safety joint is an essential safety tool for connecting the pipes in the well. The body adopts wide buttress thread or special trapezoidal thread connection, which is used to drill, fish, wash well, work over and test operation, etc. It is used to treat well accident and used to be mid-way test of drilling and coring. It is connected to the drilling stem needed position to protect drilling stem and have not an effect on drilling tool. Once down hole tool is strike, it can be withdrawn and disassembled drilling stem above stuck point with the help of safety joint. When drilling again, it can be connected.
Type AJ safety joint has two kinds of right-hand thread and left-hand thread. Other parts and specifications of two kinds of safety joints are the same expect screw rotary direction opposition..
Specification of H Type H Safety joint
| | | | |
| --- | --- | --- | --- |
| Type | (mm)O.D | (mm)I.D | Connection |
| HAJ89 | 89 | 15 | NC26 |
| HAJ95 | 95 | 20 | NC26 |
| HAJ105 | 105 | 30 | NC31 |
| HAJ121 | 121 | 38 | NC38 |
| HAJ159 | 159 | 50 | NC46,NC50 |
| HAJ165 | 165 | 50 | NC46,NC50 |
| HAJ178 | 178 | 57 | NC50,5 1/2FH |
| HAJ203 | 203 | 71.4 | 6 5/8 REG |
Specification of Type AJ Safety Joint
| | | | |
| --- | --- | --- | --- |
| Type | (mm)O.D | (mm)I.D | Connection |
| AJ-C86 | 86 | 38 | NC26 |
| AJ-C95 | 95 | 44 | NC26 |
| AJ-C105 | 105 | 51 | NC31,2 7/8NU,2 7/8EUE |
| AJ-C121 | 121 | 57 | NC38 |
| AJ-C159 | 159 | 71.4 | NC46,NC50 |
| AJ-C165 | 165 | 71.4 | NC50 |
| AJ-C178 | 178 | 71.4 | NC50,5 1/2FH |
| AJ-C203 | 203 | 76 | 6 5/8REG |
| AJ-C228 | 228 | 76 | 7 5/8REG |
My friend, if you have any requests of our Type H safety joint and Type AJ safety joint, please send your requests to my email:
sales@chancematewellcontrol.com
, we are 24 hours online to give you the best service
Related Products :